4 NIGHTS 5 DAYS
EXOTIC ANDAMAN ISLANDS…!!!
Let's explore andaman Islands tour with excited nature beauty Our World today, has been invaded and conquered in the search for beauty, to beet into souvenirs and photographs; and we're led to believe that what is captured and to be seen, has been seen already. But we could not be more mistaken. Many have traversed the off trodden paths towards a Vacation of Leisure or Labor. And yet there is world out there – of endless possibilities, of untouched, glorious beauty – just waiting to be explored. We, at Mas Tours, invite you to join us, and view the world through our eyes; to travel the path less travelled, to where the real beauty lies. Come, Let's Explore the exotic World beauty of Andaman untouched paradises group of pictorial islands surrounded by the emerald green waters of the Bay of Bengal, magical Andaman is an ideal destination for those who want to soak into pristine nature, primeval jungle, mangrove forest & snow-white beaches. Originating from Port Blair thisAndaman tour takes you to some of the most stunning islands, Havelock, Baratang and Chidiyatapu beach. Witnessing the setting sun at Radhanagar Beach in Havelock is one of the most delightful moments of this tour. Above all, on the occasion of Veer Savarkar Punyatithi you also visit Cellular Jail, a symbol of India's freedom struggle and revisit our glorious history in the Sound and Light Show on the jail premises. A treasure trove for the nature, beach and history lovers, Andaman is an ideal holiday spot to spend quality time with your friends and families.
Day 1: AT CELLULAR JAIL
Arrive at Port Blair in the morning/afternoon by flight and our representative will be waiting outside holding a placard with your name on it. You will be taken to your hotel where you relax and rest. Post lunch will proceed to one among the most visited attraction in Andaman Islands, Cellular Jail. This jail before India's Independence hosted the most ferocious prisoners in the Andaman Islands. Today this jail stands as a national memorial. Visit to this historic attractions and know about the rich history of the Andaman Islands, then move towards Corbyn's Cove beach. The Crescent shaped coconut palm fringed Corbyn's Cove ideal for swimming & bathing. Coastal drive to this beach is awesome; a stretch of around 4 Km with an open sea towards your left is a sight to experience. Take pit stops during this ride to click pictures and to explore the beauty. Later proceed to attend the enthralling Sound and Light Show at Cellular Jail - where the heroic saga of the Indian freedom struggle is brought alive. Enacting of freedom fighters and their struggle for India's Independence is enacted during this trip. Post completion of this trip, we drop you back to your guest house
Day 2: PORT BLAIR - HAVELOCK: ELEPHANT BEACH AND RADHANAGAR BEACH
Early morning departure FERRY from port Blair-Havelock. The private ferry takes 1.5 hrs to reach Havelock. on arrival proceed to Elephant beach after competed will drop you selected hotel and in the evening proceed to selected hotel and in the evening proceed to Beach no 7* (Radhanagar Beach) rated as the 'BEST BEACH IN THE ASIA' by the Time Magazine (AC CAR/JEEP Will Be Provided for Pickups and Drop, Time Spent 2-3 hours). Return back to hotel to relax and unwind. (Kindly remind hotel to provide packed breakfast at port Blair since the same is not included at Havelock
Day 3: HEVLOCK TO NEIL
Early morning departure to Kalapather beach for sunrise after finish will drop you hotel for breakfast after that processed FERRY from Havelock to Neil Island on arrival representative will attend you and drop you hotel after that we cover, and Bharatpur Beach. The closest white sand beach to Neil dock, Bharatpur beach. The reef here is still unexplored and travelers can avail snorkeling, glass bottom boats rides and Jet Ski rides here. Then, visit to Sitapur beach for perfect sunset view and after that will drop you hotel to relax for the day with wonderful memory back in your camera.
Day 4: NEIL TO PORT BLAIR
After breakfast check out hotel move back to jetty our representative attends you and helps you board a ferry back to port Blair on arrival our representative will be waiting at the exit of the jetty. Then proceed to selected hotel evening sunset point visit chaditappu beach
Day 5: FLIGHT BACK
Early morning after breakfast will drop you airport with beautiful mesmerizing trip HOTEL AT HEVLOCK: WHITE CORAL BEACH RESORT PORT BLAIR REEF ATLANTIC CS EMPIRE
Transportation using A/c private individual
Hotel standard A/c with breakfast and dinner
All meal as per the hotel menu extra order may cost extra
Arrival assistance
Parking, Toll
All Taxes like Private CRUISE PORTBLAIR —HEVLOCK – NEIL -PORT BLAIR
Jail tickets /light and sound ticket /Elephant beach boat ticket
Services / facilities not mentioned in cost includes
Entertainment /activity fees
Tips
Telephone charges
Laundry & other expenses of personal nature
Water sports activities
Air tickets
The Cost given only for 01 Adult, and the cost valid only minimum 2 adults travelling together
Kindly advice your acceptance through "Book Now" link, in order to proceed with reservation according to availability.
For reservations, kindly forward us the exact travel dates. 25% of total package cost has to be deposited as advance payment, on confirmation of the package, and the balance payment by bank minimum 10 days before on Arrival.
Advance Payment can be made by Fund Transfer / Cheque / Credit Card / Debit Cards/ Cash / Net Banking Options.
All reservations subject to Availability at the time of bookings only.
In case of cancellation of tour/travel services due to any avoidable/unavoidable reason/s whatsoever, we must be intimated in writing. Cancellation charges will be effective from the date of receipt of your letter.
For Houseboat booking for 21 hours the Check in time is 12 PM and check out time is 9 AM. Any delay in check in time will not be compensated by extending the checkout time, A/C operates in the bedroom.
In case of any Complaints or dissatisfaction, the same should be informed immediately to the concerned Tour Executive and we will try to resolve the same if it is within our limits or constraints and no complaints will be entertained after utilizing the service.
Similar category hotels will be arranged if rooms are unavailable in above listed hotels.
Any change in the date of travel or the number of persons travelling the tour cost offered may vary.
Kindly confirm the above as a reply to initiate bookings, To re-confirm your reservation You may make the advance payment before the cut-off date to either of the bank accounts and inform transaction details through email tours@lotusflies.com
Packages
Featured Packages
Planning for
your next destination?
Grab your travel plan and get on a call with us
CALL US NOW
+91 9496825155
you
have
arrived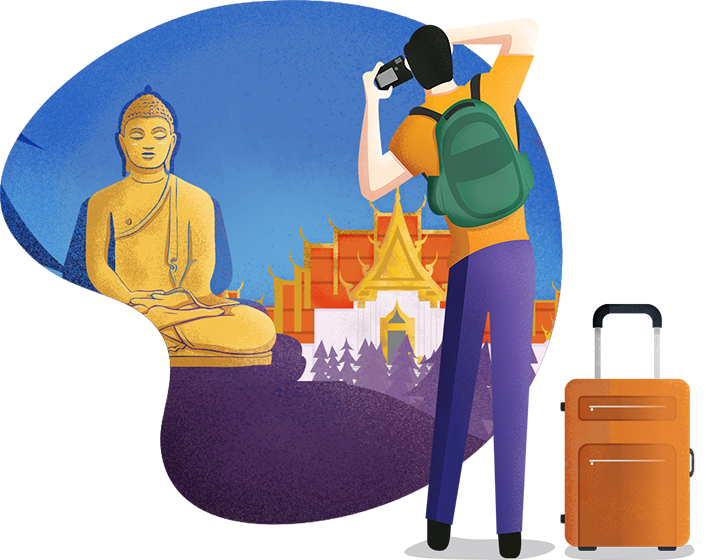 Grab your travel plan and get on a call with us
CALL US NOW
+91 9496825155