4 NIGHTS 5 DAYS
LAKSHAWDWEEP LEISURE PACKAGE
Lakshadweep package, the group of 36 islands is known for its exotic and sun-kissed beaches and lush green landscape. The name Lakshadweep in Malayalam and Sanskrit means 'a hundred thousand islands'. India's smallest Union Territory Lakshadweep is an archipelago consisting of 36 islands with an area of 32 sq km. It is a uni-district Union Territory and is comprised of 12 atolls, three reefs, five submerged banks and ten inhabited islands. The islands comprise of 32 sq km. The capital is Kavaratti and it is also the principal town of the UT. All Islands are 220 to 440 km away from the coastal city of Kochi in Kerala, in the emerald Arabian Sea. The natural landscapes, the sandy beaches, abundance of flora and fauna and the absence of a rushed lifestyle enhance the mystique of Lakshadweep package. The islands are well connected by regular flights from Kochi. Helicopter transfer is available from Agatti to Kavaratti throughout the year. Lakshadweep has a tropical climate and it has an average temperature of 27° C – 32° C. April and May are the hottest with an average temperature of 32° C Generally the climate is humid warm and pleasant. As the climate is equitable during monsoons, ship-based tourism is closed. October to March is the ideal time to be on the islands. From June to October the South West Monsoon is active with an average rainfall of 10-40 mm. The relative humidity is 70-75%. Annual rainfall decreases from South to North. On an average, 80-90 days a year are rainy. Winds are light to moderate from October to March.
Day 1
On arrival at Agatti Airport shall receive you with a welcome drink, later you will be proceeded to the Resort, and Lunch will be served at 2'o clock. In the evening we proceed for glass boating. Dinner & Overnight stay at Agatti.
Day 2
After breakfast we enjoy the boat trip to Bangaram Island. Experience the Bangaram island sightseeing followed by Thinnakkara island visit. After lunch we will have Snorkelling at Thinnakara (Snorkelling Place: Ship Ruck Point). Dinner & Overnight stay at Agatti.
Day 3
Snorkelling/Scuba diving class session for all members in the Morning. Followed by Snorkelling and kayaking from 10:00 - 1:00 (Snorkelling Palace: Agatti Coral Sight). In the evening, visit Agatti, famous for sea turtles & beautiful corals. Dinner & Overnight stay at Agatti.
Day 4
After breakfast & checkout you will be dropped at Agatti Airport for the onward journey
Welcome Drinks on Arrival
Lakshadweep Permit
Entry Permit and documentation fee
Airport Pickup and drop
3Nights 4Days Standard A/C Accommodation
Breakfast, Lunch & Dinner
Agatti Island Sightseeing
Bangaram, Thinnakara Island Boat trip fire
Snorkeling
Kayaking
Glass boating
Travelling charge
3 Island visit
Kalpitty Island Trip.
Other personal expense
Scuba Diving
The Cost given only for 01 Adult, and the cost valid only minimum 2 adults travelling together
Kindly advice your acceptance through "Book Now" link, in order to proceed with reservation according to availability.
For reservations, kindly forward us the exact travel dates. 25% of total package cost has to be deposited as advance payment, on confirmation of the package, and the balance payment by bank minimum 10 days before on Arrival.
Advance Payment can be made by Fund Transfer / Cheque / Credit Card / Debit Cards/ Cash / Net Banking Options.
All reservations subject to Availability at the time of bookings only.
In case of cancellation of tour/travel services due to any avoidable/unavoidable reason/s whatsoever, we must be intimated in writing. Cancellation charges will be effective from the date of receipt of your letter.
For Houseboat booking for 21 hours the Check in time is 12 PM and check out time is 9 AM. Any delay in check in time will not be compensated by extending the checkout time, A/C operates in the bedroom.
In case of any Complaints or dissatisfaction, the same should be informed immediately to the concerned Tour Executive and we will try to resolve the same if it is within our limits or constraints and no complaints will be entertained after utilizing the service.
Similar category hotels will be arranged if rooms are unavailable in above listed hotels.
Any change in the date of travel or the number of persons travelling the tour cost offered may vary.
Kindly confirm the above as a reply to initiate bookings, To re-confirm your reservation You may make the advance payment before the cut-off date to either of the bank accounts and inform transaction details through email tours@lotusflies.com
Packages
Featured Packages
Planning for
your next destination?
Grab your travel plan and get on a call with us
CALL US NOW
+91 9496825155
you
have
arrived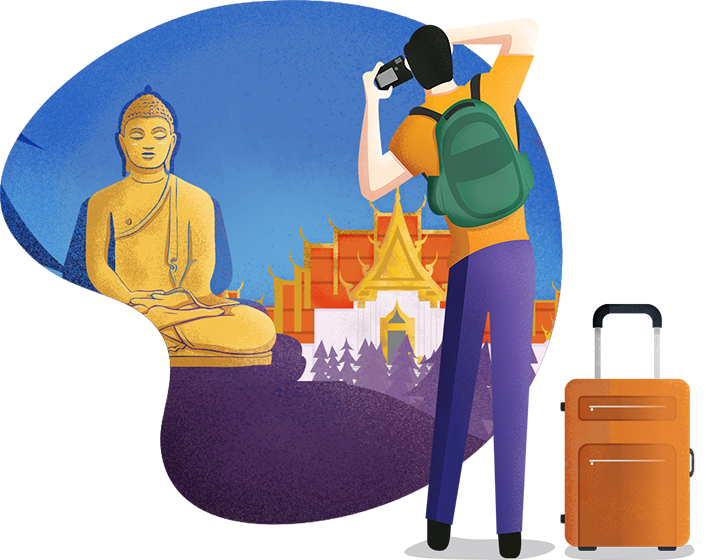 Grab your travel plan and get on a call with us
CALL US NOW
+91 9496825155